I think that "Gossip Girl" is one of – if not – my most beloved TV show  ever. Although when the last season's final episode finished I felt both joy and great sadness. The joy was coming from the end, because was all I wanted, Chuck and Blair together forever. Ed Westwick and Leighton Meester will always be one of the most beautiful couples on screen. Thus, when they agree to give to us this interview, I was beyond happy and truly grateful to them. They are both very generous, kind, noble and so talented, with an amazing future ahead of them. You can read what they told me and love them even more.
Lina Grivogianni: How is your life without "Gossip Girl"?
-Ed Westwick: I feel like a part of me is missing, without Gossip Girl. All the routine we had, all the faces we used to see every day are just gone and I miss it all.
-Leighton Meester: To me it's the same. I miss the fantastic crew we had and the cast mates, except for Ed. No, I'm just kidding. I miss it all as well, Gossip Girl was like my second family.
Lina Grivogianni: "Gossip Girl" was part of your life for six years, what did you get from that experience? Did it change you as characters, as personalities?
-Ed Westwick: Six years is just a lot, isn't it? It is indeed, but I wouldn't mind spending another six years shooting Gossip Girl, because everything that I am today is because of it. I didn't change the way I was, I'm still the same Edward of six years ago… but with more beard.
-Leighton Meester: It did. Blair is always so bossy and she's used to boss around people and I'm nothing like that. But I grew a lot with my character.
Lina Grivogianni: In the show you played as a couple that reminds us the "mythic Hollywood love stories", what is your opinion about love? What do you think about your characters relationship? Have you ever done something crazy for love or would you?
-Ed Westwick: Oh, love! Love is good but only when the person you love, loves you back! That's how it works. I'm incredibly close with Leighton, she's a lovely girl. I think she was 20 and I was 19 when we started the show and it's such a kind of development stage of young adulthood. She's a remarkable talent! I have, though I'm keeping it to myself.
-Leighton Meester :Ed is such a great person to work with, always so funny but with such talent, that it makes enjoyable to be around him. I don't think I have done anything crazy for love.
Lina Grivogianni: How was life all these years while you were living in NYC? Ed I know that you and Chace Crawford were roommates for a while, how was that? Leighton have you ever been in their house?
-Ed Westwick: I can describe it in one word: " CRAZY ". It was a good experience, we both had fun, though the house was always a mess!
-Leighton Meester: It was new, for me. I have and I'm just telling you, the minute you walk in, you can tell boys were living in there!
Lina Grivogianni: Do you know if "Gossip Girl" will come again on TV? Is there any chance to see a movie or a new season? Have you said "Goodbye" to "Blair &Chuck" yet?
-Ed Westwick: There isn't any chance that Gossip Girl is coming back. I haven't completely, because of all the love I've been getting on the Facebook Page, I've done recently and I don't think I will. I mean, It was six years, It wasn't a joke.
-Leighton Meester: I don't think It is, though I wouldn't mind doing another season.
Lina Grivogianni: Blair had an "atelier". Chuck's wardrobe was always a surprise. Both of you have been models for clothes lines. How is your relationship with fashion?
-Ed Westwick: To me, it is not a big deal actually. I wear what I want and what I like and that's it.
-Leighton Meester: I love fashion! I'm really into all the dresses thing, and I just love going out and feel comfortable in what I'm wearing.
Lina Grivogianni: You are very active in social media and really close to your fans. How do you feel about that? How is your relationship with them? You have a big audience in Greece, do you know that?
-Ed Westwick:  I love my fans, I love hanging out with them or just sit on my computer for hours, reading everything they send me.
-Leighton  Meester: As you know I have a Twitter, and when I can, I'm always checking my tweets and talking to them, because it makes me feel like I'm close to them and that we have a bond and I like the feeling.
Lina Grivogianni: If a young actor came to you and asked for help or advice, what would you say, would you guide him?
-Ed Westwick: I would, of course. If I needed help, I'd like If someone had done the same for me.
-Leighton  Meester: Yes. In fact, I have spoken to a 16 year old a month ago about acting and I could tell in her eyes, that she wants it and she has what it takes, to be big!
Lina Grivogianni: What do you know about Greece? Do you know about the financial crisis? Have you ever been there? Should we expect you to visit our country in the future?
-Ed Westwick: I know nothing about it, I'm sorry. I hope so, I'd love to.
-Leighton Meester:  Yes, a bit. And I've heard wonders about it, even if the country is going through a financial crisis, at the moment. I would love it.
Lina Grivogianni: What are your plans for the future as actors and as musicians? Will you come to our country for concerts?
-Ed Westwick:  I'm already working in a new project and I hope you all like it.
-Leighton Meester:  I'm at moment recording my new album and working in a few projects and I'm really excited about it.
Lina Grivogianni: Is it true that Chace Crawford wants to make a "Gossip Girl Band" with all of you?
-Ed Westwick: It isn't, no. And I'm just blown away by the things people say.
-Leighton Meester: I don't think so, though that would have been a great idea coming from Crawford.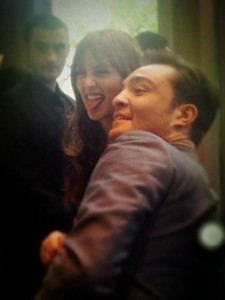 Lina Grivogianni: How related are your lives to GG world, and I mean the Upper East Side and all?
-Ed Westwick: Nothing alike, except for the media.
-Leighton Meester: Like Ed said, that's just it. We're just normal people trying to live our lives, even though we have all the paparazzi behind us 24/7.

Lina Grivogianni: Which is your biggest dream? Or is your life already a dream?
-Ed Westwick: I'm living the dream already, all of this is a dream!
-Leighton Meester: Exactly, all the love we have, all the support from our fans is a dream and we couldn't thank you enough.
Lina Grivogianni: Would you tell me your favorite scene and your favorite line from your roles as Chuck and Blair?
-Ed Westwick:  My favorite scene is the last one of season 4 of Gossip Girl and favorite line would be " I'm Chuck Bass " of course!
-Leighton Meester: I loved as well the last scene of season 4, where Chuck gets shot but also the first from Season 1, where I'm in bed with Crawford. I loved shooting that scene, because at the time I didn't knew Crawford and It was bit awkward but then It was fun. And favorite line is when Blair says " But everytime I try to move on, you're right there. " I just loved saying it!
Lina Grivogianni: You both have been working in movies. You Ed with Leonardo Di Caprio in "J Edgar" and Jude Law in Breaking and Entering. Leighton you with Gwyneth Paltrow in "Country Strong" and in Roomate as the leading character. Do you like to tell me more about your experiences?
-Ed Westwick: Working with Di Caprio was such an honor, the man is my hero and working with him made my whole year. I was really excited about working with him and he's a really chill and down to earth guy.
-Leighton Meester : Oh god, Gwyneth Paltrow is just so beautiful and she's so talented and It was more than an honor to work with her! I grew up watching her and having the chance to work with her, at the time was Impossible for me to believe. But it made my dreams come true.
Lina Grivogianni: Finally do you have any film plans? Which are they?
-Ed Westwick :At the moment I'm working on a new project but will have to keep in on hush-hush, just yet. But it's going to be big!
-Leighton Meester :I'm working on my new album, it has a lot of songs that I wrote last year but never thought they'd be hit but decided to put out for you. I'm making new things, taking chances and hoping you will all like it, when It comes out!
Pictures were taken by Google & blogs